Previous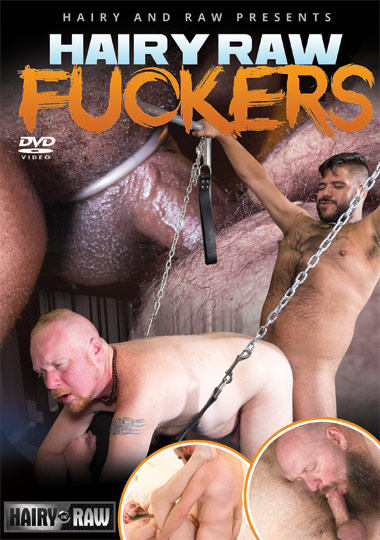 |
BAREBACK PLAYROOM
Welcome to the Bareback Playroom, a play space where men are horny, hairy and hung. Come watch Aiden Storm, Nick Hole, Eric Hassan, Alex Hawk, Jon Shield, Rusty McMann, Donte Oxun, John Lock and Nick Hole as they devolve into animals in their quest for pure, unadulterated rutting: gagging on thick slabs of juicy meat, slobbering over spasming holes, and bareback fucking using only spit for lube until they get off, rewarding one another with the most precious of all bodily fluids…lip-smacking jizz. So, come. Enter, if you dare, Bareback Playroom!
Market price:

$39.95

, you save

$20.00

$19.95
Product Scenes


Scene 1 Aiden Storm and Nick Hole
Aiden Storm is a strapping mountain of a man. Hairy in all the right places, the bearded tattooed fetish lover has a big cock meant for eager, submissive pups like Nick Hole. The young bearded cock hungry man whore is kissed, sucked, spit on and generally manhandled by Aiden, all while tied to a Saint Andrew's cross. Knowing Nick is into man scents Aiden rubs his armpit in Nick's face so he can get a good whiff and lick to his heart's content. Aiden then makes full use of the hairy little pig, sucking his fat, uncut dick, spitting into his mouth and rimming that pert, round ass before getting him on the sling to fuck him raw. Aiden takes Nick, nice and steady, fucking deep while spouting a stream of trash talk bound to make your cock twitch. Aiden turns Nick into his little bitch, giving him all sorts of commands, at times calling him dirty names and even muttering things we couldn't understand but drove Nick further into sexual ecstasy. throughout their entire domineering bareback fuck session. When he's ready to shoot, Aiden feeds Nick his load then commands him to spray his own jizz all over the floor, which he then laps up like the good dog he's meant to be.
---

Scene 2 Eric Hassan and Alex Hawk
Eric Hassan and Alex Hawk had been trying to hook up for several months. When we put the call out for hairy pigs who liked to fuck bareback, both answered. Little did they know we were about to pair them up! And so, after filming a 3-way -- and still wearing the scent of the two men who fucked him and came inside him -- Alex moved to another dungeon room where bearded Eric lied in wait. Alex immediately dropped to his knees and set about kissing the hairy hunk, chewing on his nipples and licking his way down Eric's inviting treasure trail. Alex takes his sweet time, savoring practically every inch of Eric's hairy body before burying his face in the man's crotch. He then pulls out Eric's cock and devours it down to the balls. And speaking of balls, Alex knows Eric's are heavy and full of seed meant just for him. Sperm hounds can sniff out the protein they most crave, you know. No part of the body is left out -- not even toes or feet -- as Eric and Alex explore each other in a sensual fashion that borders on the romantic. Eric works Alex, priming him to take on that enormous man meat. But Alex is built small and it takes a while to work all that thick cock inside. But Eric eventually manages to slide the entire length inside Alex, bareback fucking the otter and sending him into orbit before delivering a H-U-G-E load of jizz.
---

Scene 3 Nick Hole and Jon Shield
---


Scene 4 Rusty McMann and Donte Oxun
Just as Donte Oxun like to service older white daddies, Rusty McMann gets off on sex with black men. The white daddy, clad in a red kilt, offers up his pierced cock and big ass for Donte to service both. Donte gets his face fucked then, as Rusty kicks back in the sling, remains on his knees to eat out Rusty's hole and take the fat dick in his mouth. Donte feeds Rusty some cock after he asks for it but Donte soon finds himself on his back, legs up in the air, ass in the sling with Rusty's fat cock buried inside him. The white, silver-haired daddy bareback fucks Donte, spitting on him to further add to the exciting humiliation of being Rusty's submissive bottom. What follows is one of the most intense interracial bareback fucks we've ever seen, including cum-filled holes, lapping up spilt DNA and some acrobatic manoeuvers that almost brought the house down...literally!
---

Scene 5 John Lock and Nick Hole
If you're into daddy/son, older/younger bro roleplay -- especially with a leather fetish twist -- you're going to LOVE watching Nick Hole and John Lock. Small, compact and meaty, both are hairy in all the right places, with a similar look and equally big, fat cocks. After only just a little bit of making out, the two get right down to business...the raw art of bareback fucking. There's no rimming, not at first. Just WHAM! Bald, tattooed and hairy John -- decked out in a leather vest and a jockstrap -- slips that big dick into Nick and starts fucking, stretching out the bottom's already pre-lubed hole. John fucks Nick a while before pulling out and going down on his freshly fucked ass, priming him with more spit while taking a detour to slobber all over Nick's meaty cock and balls. John is so worked up by pounding Nick he pulls out and sprays his load, seeding the hairy fuck hole full of protein. But he doesn't stop there. John flips Nick onto his back and shows off serious stamina, taking ownership of Nick the way a hung horny leather daddy should. Then they flip. John is versatile, which we knew, and Nick is mostly bottom but as it turns out, he knows how to throw a mean fuck. And with that meaty dick of his, he satisfies John's need to take exactly what he's given Nick. John gets to taste his own ass after a while, as Nick fucks the bearded daddy's face and throat, his big balls squeezing against John's chin. We could go on but frankly, this is one for the records. From their instant chemistry to their unadulterated animal rutting, you'll be jerking off over this one repeatedly!
---
Weight

0.4000 lbs

SKU

PT-HAR-BBPR

Run Time

120

Audio

Live Sound

Cast

Aiden Storm, Nick Hole, Eric Hassan, Alex Hawk, Jon Shield, Rusty McMann, Donte Oxun, John Loc, Nick Hole

Year Produced

2017

Shipping Time

3 to 5 days

Aspect Ratio

16:9 Widescreen

Regional Encoding

None

UPC

847046018664
Customers who bought this product also bought
Customers who viewed this product bought